Title of Master Craftsman
Vibrawell is a manufacturer specializing in the manufacture of percussion sticks and mallets for timpani, concert bass drum, vibraphone, marimba, xylophone, glockenspiel and multipercussion.
Do you know the history of Vibrawell?
This is the oldest French company manufacturing percussion mallets.
It was created in April 1982 in Champagne, by Pascal Bally.
5 years later, following his accidental death, his wife Francine took over the business, initially alone, then with her second husband Gilles.
In the same period, Monika and Dieter Hermann invent and build beautiful percussion instruments (marimba, African clave, kalimba…), within the workshop
Kidney Pre Percussion®
.
In 2006, they went down to the Gard to take over the company, and brought the manufacture of Vibrawell rods back to the Vosges.
After 13 years and thousands of baguettes later, their retirement approaching, they offer to train me in this unique know-how and to achieve a smooth and flawless transmission of the company. In June 2019, I officially take over the company.
For more than 40 years, a recipe book (secret) exists, and is transmitted from generation to generation. It allows the manufacture of nearly 250 different sticks. This explains why it is not uncommon to come across old Vibrawell drumsticks, still made today, with the same method, and very often thanks to the same suppliers (wool, rubber, wood, etc.).
The adventure now continues in Savoie at the entrance to Beaufortain, in the charming village of Queige. The chopsticks are made there one by one by hand, with more than ever the quality and passion of artisanal work.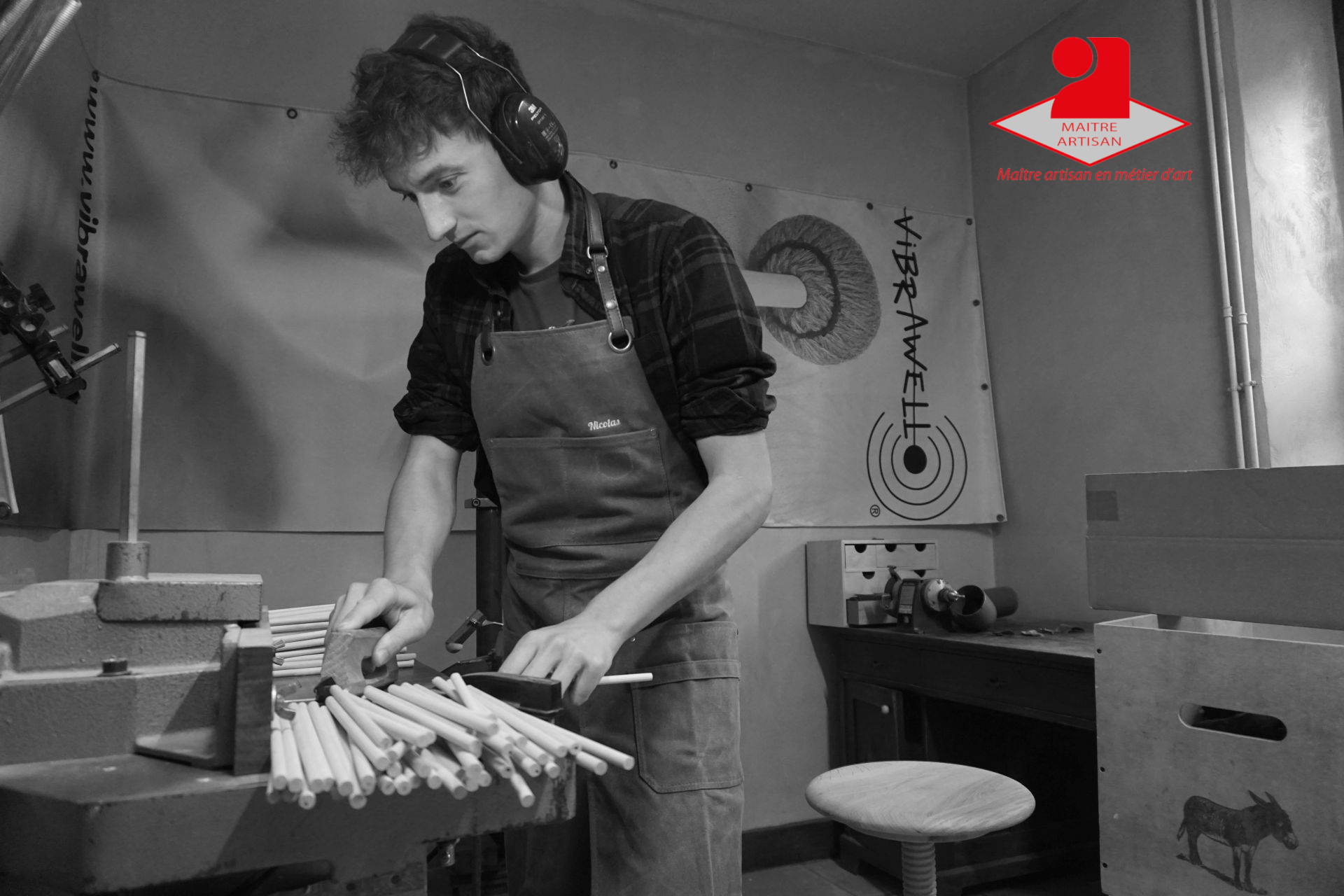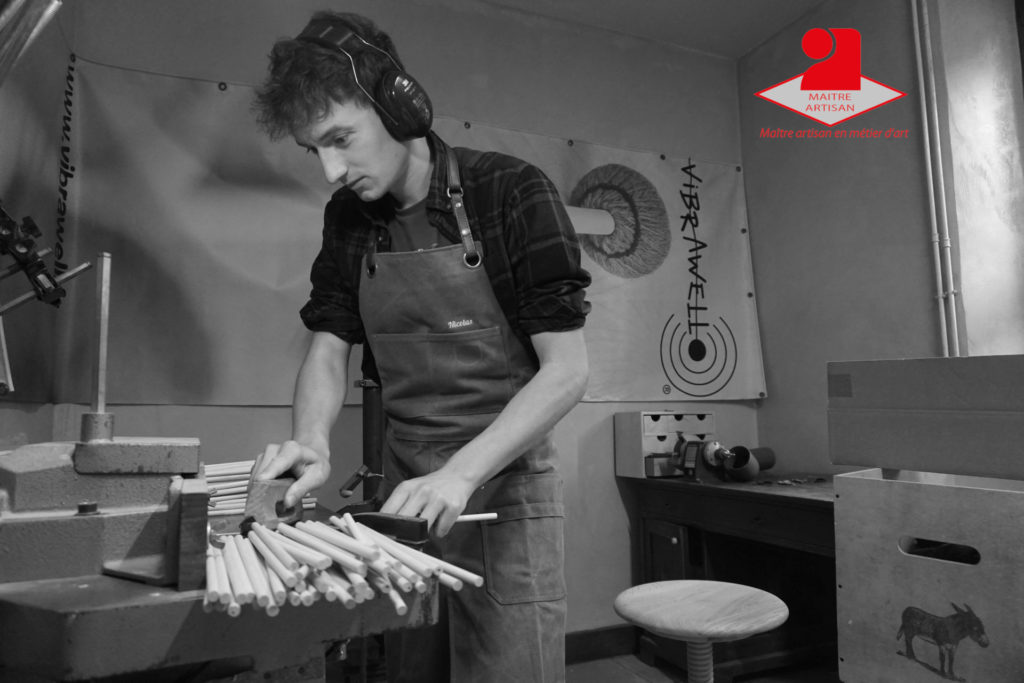 Nicolas TRIBOULOT
Manufacture of chopsticks
& Business Management
Wide range of chopsticks
We offer a wide range of mallets to meet the different needs and requirements of French and international percussionists. The collaboration and exchanges with the percussionists play an important role in our approach.
Innovation and perfection
Motivated by the expression of musical emotions, we always seek to innovate and improve the range of your tools while keeping tradition.
The manufacture of our chopsticks is carried out in an artisanal way and largely by hand. The materials used are chosen very carefully and go through multiple stages to become a perfect and balanced pair of chopsticks.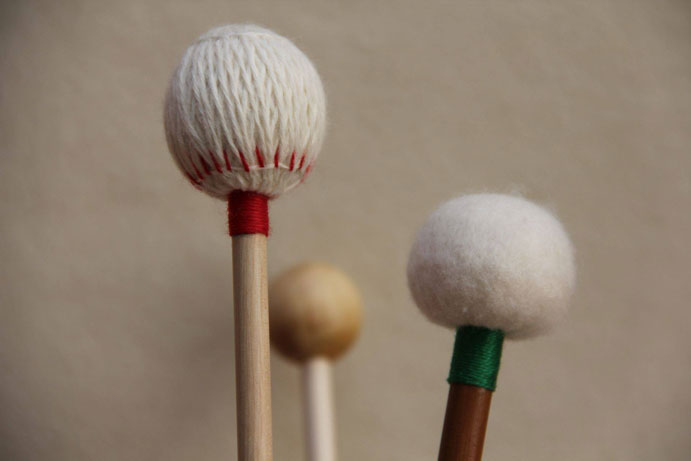 Sleeves
Bamboo handles for timpani are sorted by diameter, weight, knot position and color.
Rattan handles according to diameter, flexibility and color.
The wooden handles are cut rigorously in the direction of the fibers and sorted according to their flexibility and color.
Tailor-made baguette
You can choose the length and diameter of your chopsticks with bamboo or rattan handles.
Heads are made of a wide variety of materials, the important criteria are hardness, weight, elasticity (rebound).
If you do not find what you are looking for in our range of baguettes, we can make your custom chopsticks ; we will establish an estimate on request.
VIBRAWELL mallets are appreciated by a large number of percussionists, some of whom belong to major French or foreign orchestras (Europe, South America, Australia, Korea, USA, Taiwan, etc.).
27 route d'Outrechenais
73720 QUEIGE (FRANCE)
+ 33 (0) 4 79 32 52 23
vibrawell@vibrawell.fr
Main references
Intercontemporary ensemble
Symphony and Lyric Orchestra of Nancy
Strasbourg Percussion Orchestra
Lille Orchestra
Paris Opera Orchestra
Radio France Philharmonic
The Republican Guard
Lorraine Percussion
Royal Danish Opera
Vienna Symphony Orchestra
Taiwan Symphony Orchestra
Opera Australia Orchestra
Insects and the Metallophone
...
Artists VIBRAWELL

Vassilena SERAFIMOVA
Marcel ARTZER
Pascal SCHUMACHER
Percussionists enjoying drumsticks

Roland AUZET
Arthur BECHET
Marianna BEDNARSKA
Grzegorz CHWALINSKY
Daniel CIAMPOLINI
Francesco CIMINIELLO
Rémi DURUPT
Aurelien GIGNOUX
Joel GRARE
Alex GRILLO
Florent JODELET
Pierre MARCAULT
Thierry MIROGLIO
Gert MORTENSEN
Cyprien HAZELNUT
Ryszard PUSZ
Gaston SYLVESTRE
Karol SZYMANOWSKI
Francois VALLET
Didier TRUTH
...